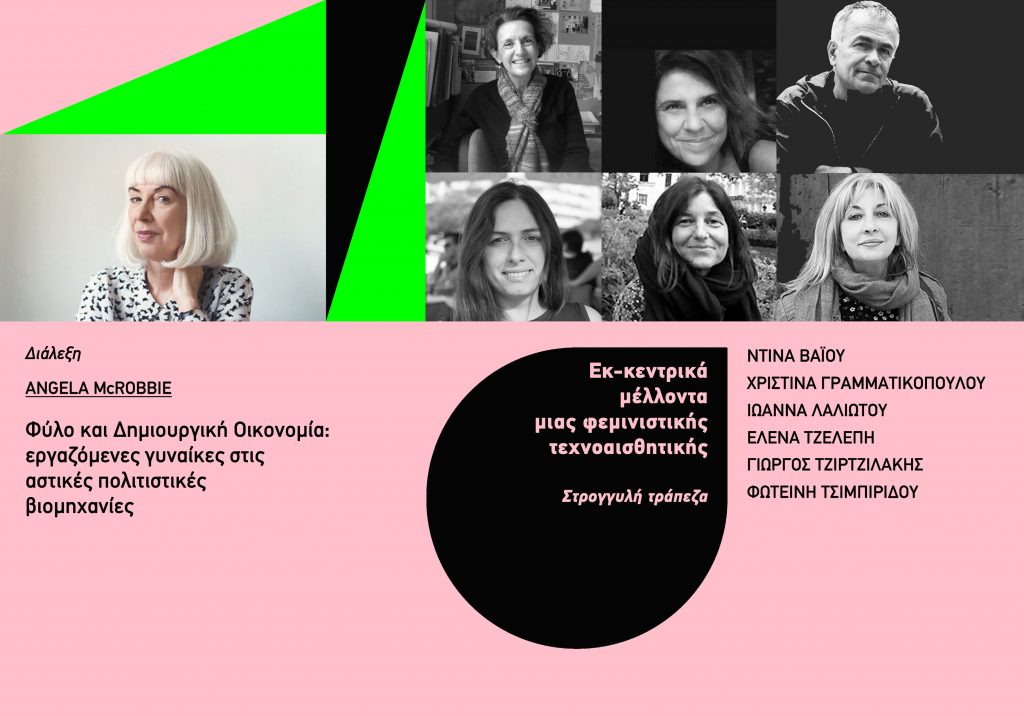 On Tuesday 29 June, 18:00 (GMT+3), we are inviting you to a celebratory event into 2 parts for the completion of the first circle of works of the Centre of New Media and Feminist Public Practices and the launching of the publication Feminist Theories, Aesthetic Practices and Globalised Technologies and the situated and international perspectives of its new season.
PART Α:
Keynote Lecture by Angela McRobbie (Emeritus Professor of Communications, Goldsmiths College), 'Gender and the Creative Economy: Women Workers in the Urban Cultural Industries'.
PART B:
A round table discussion will follow the keynote lecture, titled 'Ec-centric futures of feminist techno-aesthetics' with affiliated collaborators
-Christina Grammatikopoulou (curator, Digital Culture, University of Macedonia, University of Western Macedonia),
-Ioanna Laliotou (Historian, Vice Rector of International and Public Relations, University of Thessaly),
-Fotini Tsibiridou (Social Anthropologist, University of Macedonia, Director of Culture-Borders-Gender/Lab)
-Elena Tzelepis (philosopher, University of Thessaly)
-Yorgos Tzirtzilakis (architect, University of Thessaly, artistic advisor of DESTE Foundation for Contemporary Art)
-Dina Vaiou (Architect-Urbanist, Emeritus Professor National Technical University of Athens).
The event will be held on ZOOM and simultaneous interpretation would be available (greek-english).Meeting ID: 851 4344 7097
Passcode: 333507
https://us02web.zoom.us/u/khXhYqpOB
In case the ZOOM meeting is full, live streaming will also be available via our Facebook page
https://www.facebook.com/centrefeministmedia